We're taking a break from running tours for now - please check back in the future or email us if you have any questions.
More about us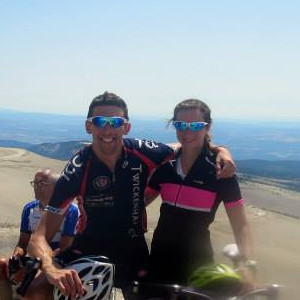 We like to cycle tour, and we know a thing or two about it. It all started riding in the south of France over 10 days during which we took in roads used by the Tour de France including some iconic climbs such as Mount Ventoux and the Col d'Agnes in the Pyrenees mountains. We fell in love with the simplicity of life on the road and the rewarding sense of doing it all with our strength. All of a sudden we found ourselves tailoring every vacation to include days on the bike exploring beautiful scenery, often with an epic climb or two.
Even when not on vacation we find ever opportunity to tour, even if just for a couple of days with trips across England where we lived at the time. Then, in Fall 2015 we really went in deep with a 80 day adventure by bicycle across China, Vietnam, Laos and Thailand. We began by cycling to the Great Wall of China and ended by arriving in Chiang Mai in time for the Yi Peng festival completing over 3,000 miles. During this trip the idea of running our own cycle tour cemented in our mind and the idea built.
If you're intested in our trip, we wrote about our time on the road here:

Adrift In the East
Alex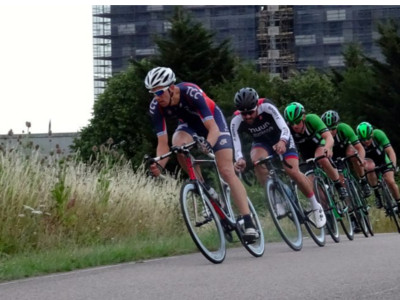 Like many people, I didn't see a bike as being anything beyond an occasionally handy mode of transport for short distances in the city. That is, until I joined my local cycling club. Within a year I was racing competetively and had embarked upon my first trip by bicycle, a 4 day ride from London to Paris carring all of our own luggage with us on the bike. A few years later I was racing at a high level, working my way to Category 1 with a reputation in the local scene for being a rider who likes to make a bike race as hard as possible.
Since starting to ride seriously years ago I've gained a deep understanding of the training required to improve as a rider. While I can't claim to be a professional mechanic, I've built-up and rebuilt bikes from scratch and I don't think there are too many problems I can't fix. Over the years, thousands of hours on the bike in all conditions mean I know enough about equipment and clothing choices to make riding a bike as optimal an experience as possible.
While I still have racing in my sights and I enjoy performance oriented riding, there is something unique about powering yourself across every mile of an actual journey which I keep coming back to. I enjoy riding at any pace with good company, but if you want a tough day on the bike, I can push it as hard as you like.
Tia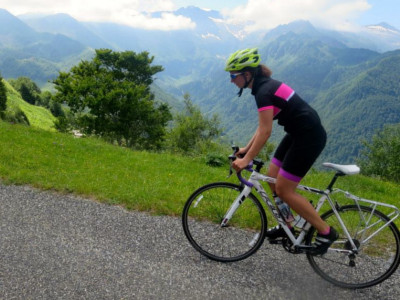 Unlike Alex I did not come from a racing background and before I met him I didn't even own a bike. It was popular in England to cycle to work and one night at the pub with my manager and director they made a bet with me; I would not cycle to work 3 times a week for 8 straight weeks starting right after Christmas break. I lived 22 miles from work at the time and maybe it was because I had a pint or two more beer than I should have I agreed. I bought myself a bike and Alex helped me plan a route.
The beginning was rough to be honest. England in the winter is cold and damp and very very dark. I would ride to work in the dark and by the time I got on my bike to go home it was dark. One week in I was cycling in the rain and I ran into the back of a red double decker bus! One thing about me is I am stubborn and refused to let my manager win and counted down the number of rides I had to do to win. Then all of a sudden it got warmer and the amount of time cycling in the dark reduced and I found myself looking forward to my daily commute. I won the bet and have been on my bike ever since.
My cycle to work was not glamorous nor through nice country roads and it wasn't until I escaped into the Surrey hills that I saw the full beauty of it. It was nice getting away for long weekend day rides, but once I started cycle touring I started to crave it. The achievement I felt propelling myself across such long distances or at the top of a huge climb was enormous. The quietness of being out in nature away from my hectic life and seeing part of the world most people wouldn't energized me. I simple love it and certain others will too!