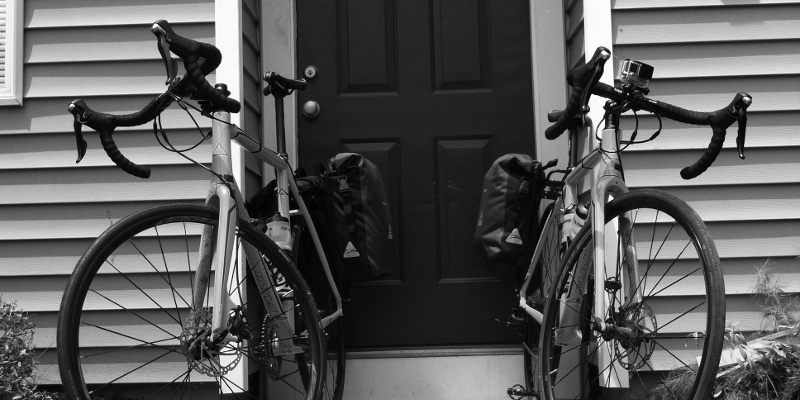 We're off to the Catskills
It is that time again; once again we are heading out on the road, just this time not for as long as our crazy Asia adventure. Since arriving in the states we have not yet done any cycle touring, except one quick weekend where we didn't have to carry supplies and that is just not acceptable. We are hyped and excited to be spending 8 days riding out to the Catskills and back. We will be fully loaded and camping every night, something we have never done in the past. In Asia we had a tent and prepared but only 3 weeks in we lost the tent and relied on hotels, guesthouses, and homes. The whole journey will be around 500 miles and we will be taking the cyclocross bikes with road tires.
A major reason for the trip is we want to test out some of the roads up north for potential multi day tours and hear the Catskills are prime and beautiful! Not to mention it was a good excuse to do what we love and get back on our bikes for an adventure.
Our gear is all new and we can't wait to test it out. We've got a light-weight 2 man tent - the Sierra Designs Lightning which is bigger than what we took to Asia, but somehow a bit lighter. For our sleeping situation the weather predicts the temperature will never go below 56 F at night so we opted for two silk sleeping liners that pack up to the size of a soda can and weigh 4-5 ounces each. We also have minimal ground matts that are lightweight, seems to cut down on weight they cut out holes all over, but hear it is just as comfortable as other lightweight ground matts. We have learned about the important things in life on our Asia trip and one thing we will always travel with is a way to make ourselves coffee. We have got the tiniest but effective burner with two titanium coffee mugs as well as instant coffee. We can thank our friends we met in Laos Darren and Trish, who taught us sometimes carrying a bit more weight for what you can't live without is worth it. Also we invested in a small portable speaker, because playing music out of your phone is not the same. And we couldn't forget the deck of cards that came as a staple for us in Asia.
The route we are going to take heads out of Lambertville north into the lanes with our first destination Clinton, NJ. It will be a short first day, as I still have to work part at my day job. What will be interesting is the weather, apparently today's thunderstorms will get quite bad with chances of hail; a good tester for the first day. After Clinton we will continue riding up north till we hit the Delaware and follow a scenic road on the New Jersey side until we reach our next destination of Milford, Pa. While in Milford we are taking a day off to do some hiking and sightseeing. After our two nights camping there we will press on to reach the Catskills; starting the climb up into the mountains. We have three nights in the Catskills moving around each day exploring more mountain roads and doing some off trailing to get to the Kaaterskills Falls and other scenic spots. En-route I am excited to be going through Woodstock, NY and seeing what the hype is all about. I hear there is a café called Peace, Love and Cupcakes that we will definitely hit, and a noodle bar for Romen. After those three nights we will head back towards the Poconos and have three back to back days of long days on the saddle to make it back for next Friday.
We will be keeping a blog if you are interested in reading the experience, but not taking a laptop. The blog will not go up until after we are back.