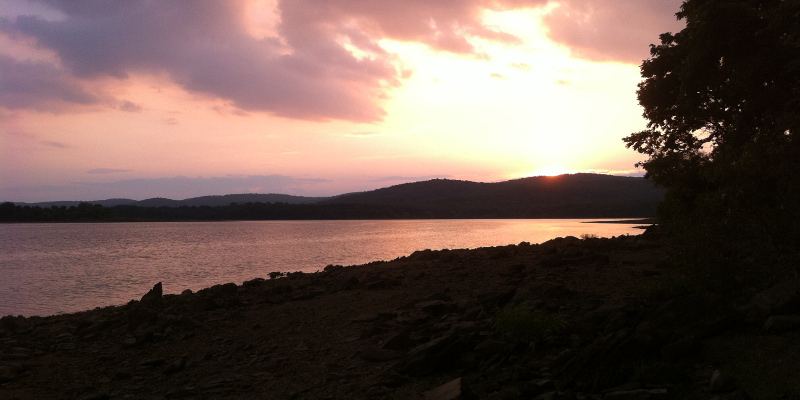 Catskills 1 - Storms and pizza
Alex and I were greatly anticipating our first camping cycle tour in the US and able to explore a new area for us, The Catskill Mountains in NY. As our previous post we have acquired all new things allowing us to camp each night and unlike our previous cycle trips we purchased a tiny stove to allow us to make coffee anywhere we wanted. From our previous adventures we come to the realization that coffee is very near and dear to our hearts and worth the extra weight to know you can wake up to a cup of coffee.
Our first day was an easy half day 65 km up to Clinton, a route that we have ridden a couple times in the past. I ended work early in the afternoon allowing us ample daylight hours to reach our campsite just a short distance from Clinton. We had purchased the GoPro Hero4 and I was looking forward to getting some footage and seeing the quality of the video. We have been using a knockoff GoPro my old coworkers in London got me for a going away present and it has done the job. However, the quality isn't spectacular and the device shakes a lot in the case causing a very shaky effect so hoping the new one fixes that issue.
We first rode up to Lambertville following the Delaware River before cutting up into the lanes towards Clinton. One thing we had not anticipated is the torrential downpour of rain caused by the storm that soon hit us once we reached the country lanes. As we rode it was threatening in the sky with thunder and lightning in the area and we knew it was only time before it hit us. The temperature was high in the 80 degrees Fahrenheit and besides our vision being slightly altered it wasn't so bad. Several trees and branches fell on the streets and a couple times blocked the road, but being on bikes it was easy enough to slip on by while the cars were told to turn around. Luckily after half an hour of rain the sky cleared up and the sun came back out drying up the roads. By the time we neared Clinton the sun was drying out our clothes and the sky was a picturesque blue.
We decided to stop on Main Street in Clinton to get dinner before headed out to the campsite. As we were searching for restaurants on the street a man with a pizza box walked on by. Alex immediately stopped him and asked where he got the pizza and we were on our way. Little did we know that the pizza shop we went to was closing their doors the next day and the pizzeria was bustling with people. We grabbed a table out front of the store and enjoyed our half sausage, half pepperoni spinach pizza before heading to an alcohol store to pick up a couple beers before turning into the campsite; because what is cycle touring without enjoying a beverage after a day of riding!
At the alcohol store there was two choices, get a low quality light beer or get a six pack of a more respectable tasty beer, the latter was chosen and the beer now lay weighing down my pannier for the last 2 miles. We arrived to the campsite and found our spot that at first look didn't seem too appealing, but once you walk through 100 meters of a wooden path you arrive at a private spot on the sands of the lake, Spruce Run Reservoir, where we enjoyed our first camping sunset of the trip.
We set up our tent for the first time and happy by the ease of it and a hidden surprise; on the inside ceiling lay a string and a light fabric made to hold a light to illuminate the tent without a direct spot! We put in one of our bike lights and boom instant light. The tent was also noticeable bigger than our tent we took to Asia, which was another added bonus. We blew up our ground mats and placed down our sleeping silks and were set for the night. I loved the weight of the sleeping silk and how small their packed up, but unfortunately the temperate at night was a bit lower than anticipated and we froze most of the night; we were going to have to buy something the next day to supplement.
The next morning we woke up early and tested out our coffee making. Our stove was so little that it could only heat up one cup at a time, but with patience we had two cups of coffee to enjoy with our leftover pizza. We packaged up our camping gear and with a bright sunny day started climbing right away on our way to Milford PA.
Todays ride was 120km and very hilly. We had several baby climbs to go through before reaching the Kittatinny Ridge to take us just east of the Delaware River over to PA. Before the major climb of the day we stopped in Hope, NJ for lunch and got two cheesesteaks and brownies. Now these cheesesteaks were HUGE and filled with steak that I at the time happily ate. The brownie for desert with caked with fudge on top and I was loving life that was until we got back on the bike. The climb, the Kittatinny Ridge, came only half an hour after food and man did I regret eating such a large cheesesteak; I was afraid I wouldn't be able to keep it down as I climbed. Slowly we made our way up and the unease of my stomach lessened and we were enjoying the first part of a two part downhill reaching 80km an hour! Half way down the climb we turned right and there is where the fun stopped; the road that lead us down the rest of the way was in a real state of being and caused much stress and cursing, definitely a road we will avoid in the future.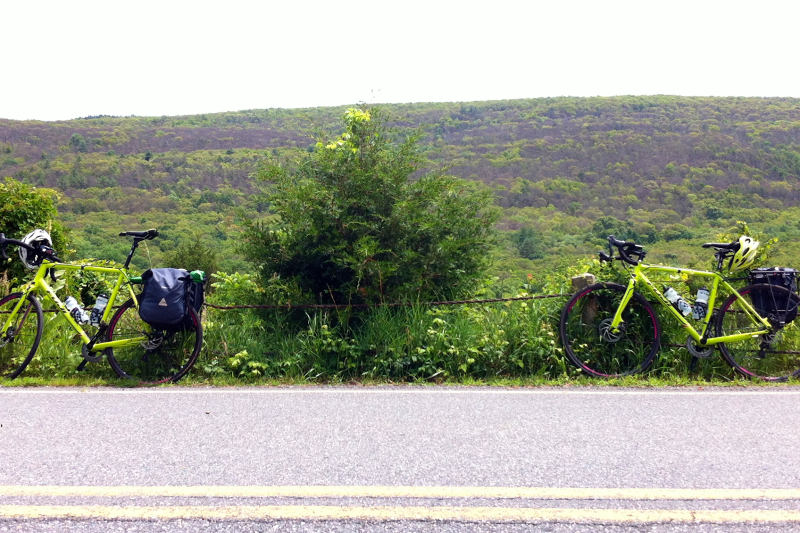 The rest of the way was uneventful with crossing over to the PA side and being a bit disappointed about the bike friendliness between Dingman's Ferry and Milford, but it is what it is. We arrived in Milford early, just after 3 pm, and decided to go on a search for a blanket to add to our camping gear. We first tried the Action Bike and Outdoor Store on Broad Street, but sadly they didn't carry any sleeping bags/blankets. The owner directed us back to Main Street to find a Pike Country Outfitters, mostly a fishing store. They did have a nice Columbia indoor/outdoor blanket on sale and although balky agreed was needed not to freeze another night of camping.
Before crossing back over to NJ to the campsite we had booked we stopped in for Chinese food and pick up some snacks and breakfast at the town grocery store. Our campsite was just over the river and up a couple of miles. We pulled in and immediately our eyes were full of pop music blasting as we wound our way to the check-in building. The building was locked and another camper had to call to get the staff to come down. The other camper told us that for the holiday weekend the campsite hired out a DJ to play by the pool, Alex and I just wanted peace and quiet out in nature. The lady checked us in and then asked how we were going to pay and we said card. She told us it would be $120! We had to have her ask again if we heard her right, 120 dollars for camping two nights with one small tent. She explained that there was a 3 night minimum and each night was 40 dollars. Alex had called the day before to reserve and he was not told any of this information, but what were we to do now? We took the hit and paid and made our way to our mountain campsite as it was described to us. The further we went the quieter it become from the loud DJ, however the campsites we were passing were on top of each other and didn't look attractive. I believe we reached our plot and I was immediately outraged, it had an old beaten RV on site and trash covering the picnic table that sat on the plot. The only spot to put up a tent was next to all the trash and was rocks, I do not think they could pay me to stay here let alone get away with charging us 120 bucks for it! Nope not happening at all.
We made our way back to the check-in building and after a heated discussion got our money returned and now had nowhere to go and it was a holiday weekend, the fourth of July. We decided anything would be better than where we were now so thought it would be best to push our way further up River road to Port Jervis NY and find a hotel. I would rather pay more and get a decent hotel than sleep in the run-down trashy plot of land the campsite was offering. En-route to Port Jervis the light was fading and a couple miles down the road we came across another camp ground and pulled in to check it out. The campground was quieter and cleaner from first impression and we hoped they would let us stay there instead of heading all the way to the town. Indeed they had space out in their open grassland field and although it was not the most ideal scenic spot it was clean and the price was right. We internally cheered and went to set up our tent for the second time.